Inline integration
Pininsert 2500 was designed to be integrated into existing connector assembly machine: PCB or another connector is prepared by the main conveyor and pin manipulations are performed by Pininsert 2500.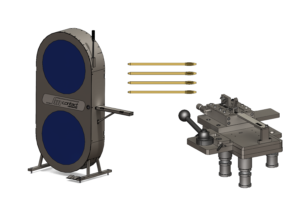 Up to 4 pin line unreeling & feeding systems
Up to 4 pin wire bobbins could be installed on the unreeler – according to the quantity of pins in one final product item. Bobbin diameter is 800 mm, capacity – 200 000 pins.
Pin wire is unreeled with motorized unreeler and lead in rows (up to 4) through brass tubes to the bending station.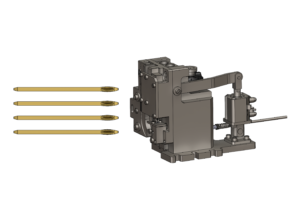 4 pin line bending systems
The device cuts the pin line, pre-bends the pins by 90°, arranges them in 4 rows (one pin in a row), completes the bending of the pins' ends and transfers them to the insertion unit.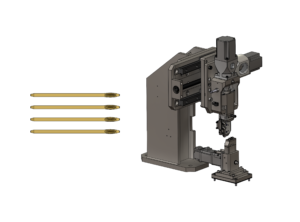 Insertion system
Insertion unit is equipped with 2 digitally controlled axis and anvil, which are powered by a brushless servo motors. All insertion points data is visualized on the screen. Mechanical gripper operated by a pneumatic air cylinder positions up to 4 pins from the bending station to the second electrical component.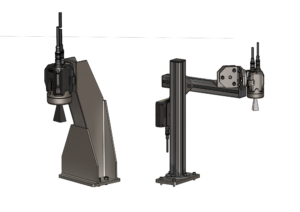 Cameras for feeding & insertion unit
One camera controls feeding of pins for slippage or breaking. Another detects the pin presence and correctness of their location. Insertion takes place only when the camera identifies correct positioning.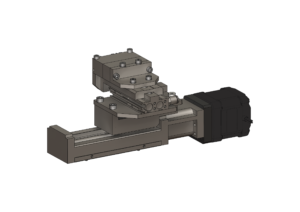 Up to 4 pin line selector
Electro-mechanical switch for the pins allows to select from 1 to 4 pins to be processed.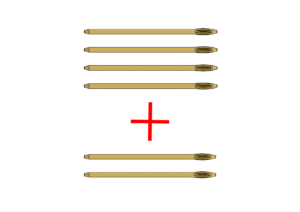 Additional 2 pin line systems
If there is a necessity to process more than 4 pins, it possible to install additional feeding, bending and insertion systems.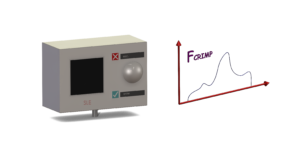 Bending & insertion force control
Insertion force monitor allows to control the force during the bending and insertion for missing or broken pins.