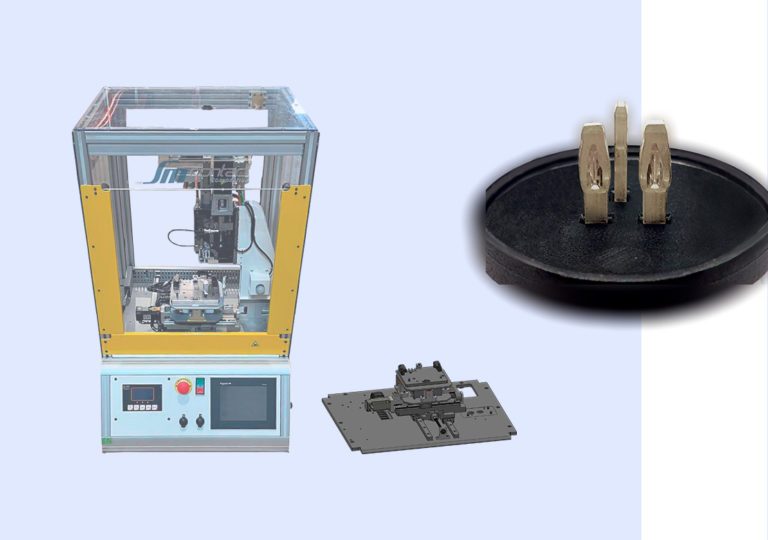 18 Jan
2023
Rotative table as a solution to install pins at different angles
As standard, the pin insertion machine mounts pins in one plane. But it happens that positioning of pins at different angles on a component is important to the product. Pininsert 2100 by SM Contact is able to insert pins at 0 and 90 degrees within one cycle using the rotative table. This saves operation time and production costs.
Duration: 0:23
When needed to "turn pins":
– pins are rectangular;
– press-fit orientation is important, especially when the holes are at the edge of PCB;
– there is a mating connector which defines the pin position;
– etc.
Therefore pins have to be inserted as specified in the datasheet (drawing).
Components are located in the customized jig and fixed on the working table (fixture) by operator. The table automatically moves to the work zone and back for unloading.
Pininsert 2100 with the rotary table option is:
– designed for small and mid-volume level production – up to 3 600 pins per hour, 6 million contacts per year;
– for series production;
– for mounting pins into PCB or connector.
Without a rotary table for one batch of components, it would be required to run two cycles, changing positions of the tooling. This adds time per operation and electricity costs, makes downtimes and takes extra operator time.
As for the standard Pininsert 2100, the second customized jig can be ordered and allows saving time. While the machine is running the second jig, the operator unloads the first one and installs components in it.
Please contact our Project Team for details: smcontact@smcontact.eu, +34 919490803
Category: Pin insertion