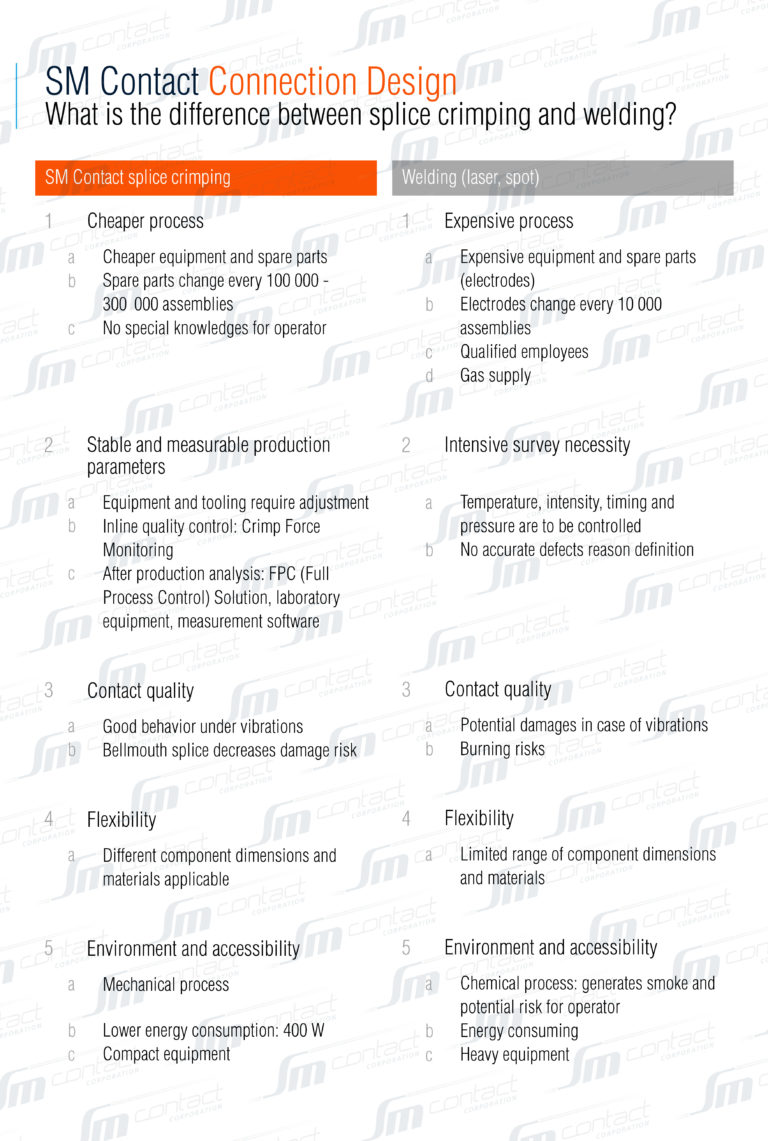 30 Aug
2016
Useful tips from Splice Crimping Seminar: splice crimping vs. welding
Bearing in mind that splices and solder joint (as well as terminations) are critical components of any electric system, we try to compare and contrast Splice crimping and Welding. Here we go!
Welding (laser, spot)
Welding requires costly equipment, gas supply and qualified performers. Expensive electrodes must be replaced each 10 000 assemblies.
Necessary to control temperature, intensity, timing, and pressure within certain limits. Difficult to define which of the parameters caused defect due to fusion.
Welding may result in burning and deformation of components, which raises up damage risk from vibration.
Range of dimensions and components materials (usually metals or thermoplastics) is limited.
Welding is energy consuming and chemical process requiring certain safety measures for a welder and waste (for example, smoke) recycling.
Splice crimping
Both equipment and spare parts are cheaper then welding tools, and process doesn't require high experienced operator. Spare parts need to be changed less often: each 100 000-300 000 assemblies.
Equipment and tooling need adjustment. Inline quality control and defects reason definition is guaranteed by Crimp Force Monitor, engineering support, laboratory equipment and measurement software.
Crimping doesn't damage components, and bellmouth splice shape additionally protects from it.
Components of different materials and sizes can be crimped, for example PCB, flex fiber, teflon composite, stainless steel.
Crimping process is mechanical as opposed to welding, and its energy consumption may only be 400 W. Used compact equipment enables accessibility of splice crimping technology.
Previous "Useful tips":
Next "Useful tips":
Сохранить
Сохранить
Category: Splice crimping