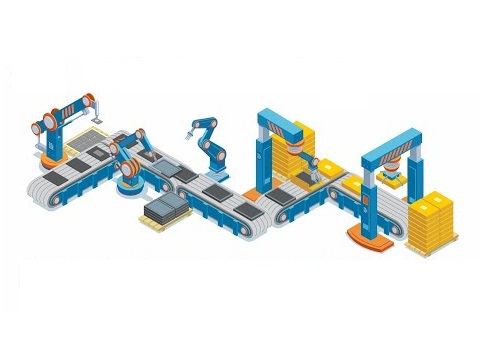 15 Jul
2022
Crimping within the assembly line as an option for SM Crimp machine
Splice crimping machine SM Crimp V8 can be used as a stand-alone or integrated into an automatic production line. The option of connecting to a Programmable Logic Controller (PLC) can be useful in wire harness assembly lines in such industries as automotive and home appliances.
During the design, SM Contact engineers coordinate a 3D model of the future machine with the customer. The dimensions are checked so that nothing interferes and the machine integrates into the line without collisions.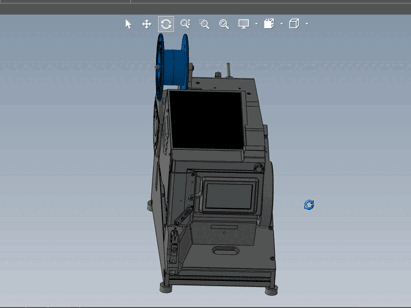 In the assembly line, components are moved by the manipulator – robot cell. The robotic arm loads the jig from the previous step of the line and pulls it out. Usually the operator is not involved when the machine is in line. Or he starts crimping by pressing the foot pedal (we save hands) or places components into the jig.
According to the production possibilities, a suitable level of machine integration is defined. For standard basic SM Crimp V8, there are three levels depending on requirements to communication with PLC:
Integration levels
Level 1
Level 2
Level 3
Signals
Low

1) Ready – Not ready
(it is not known why the machine is not ready)

Input signals:
1) SPLICE BAND FEED FORWARD,
2) START CRIMP HEIGHT HOMING,
3) RETURN MAIN SHAFT ZERO POSITION,
4) LAUNCH CFM LEARN,
5) RESET CFM ERROR,
6) RESET ERROR.Output signals, OK/NOK:
1) CRIMP,
2) SPLICE BAND,
3) CFM,
4) CFM LEARN,
5) CASSETTE,
6) MAIN SHAFT ZERO POSITION,
7) EMERGENCY ACTIVATED,
8) HEIGHT HOMING,
9) MACHINE READY
Level 2 signals + reading of data values
How to connect
Communication with binary signals (24V)
Communication with binary signals (24V).
Connectors work like a toggle switch: turn on – the signal goes, turn off – the signal is gone.
Data communication protocol Ethernet
Inputs
Wire with ferrule
2 inputs for D-Sub connectors: one cable reads the signals, the second is used to transmit signals;
'triangular' foot for expansion board is needed
Ethernet connector
Place on SM Crimp back side
Signal transmission via Ethernet is a more convenient type of connection to the line for the new generation of controllers. This kind of communication doesn't require additional hardware and is supported natively by the standard machine.
SM Contact designes and produces SM Crimp machines. They joint a wide range of electrical components: wire, PCB, coil frame, metal tab, capacitor, sensor, diode, transformer, lead frame, resistor, textile, filament, etc.
Please feel free to contact SM Contact team with questions and to order smcontact@smcontact.eu
Category: Splice crimping