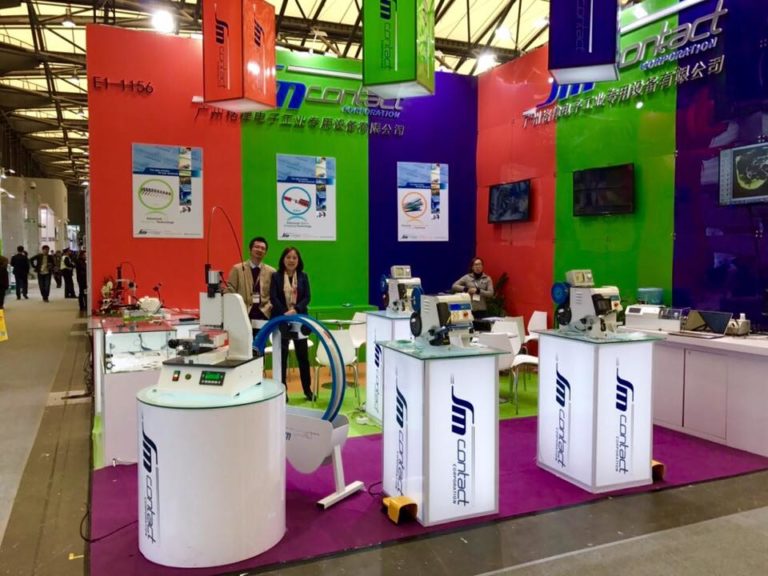 17 Mar
2017
SM Contact Asia at electronica, Shanghai
Exhibition season never ends! In the spring, we are preparing for the autumn exhibitions, in the autumn – for the spring ones. Electronica China took place in the Shanghai New International Expo Centre on March 14-16, 2017.
SM Contact Asia exhibits included: SM Crimp 2000, Pininsert 2100; micrograph laboratories SK 6000 and portable SKP 4000.
When it comes to SM Crimp 2000, its main advantages are flexibility and accuracy. Firstly, it is possible to work with any type of component. in addition to standard ones like wires and IPCBs, SM Crimp processes coil frames, plastic connectors, sensors, capacitors, etc. Then, customized tooling is developed for each product (punch tip shape, clincher size and type, etc.). Moreover, components' position and crimp force are controlled while processing.
Pininsert 2100 machines stands out for its automatic XY-positioning table with two positions on one axis (components loading and insertion) and several on the second axis, depending on the number of pins. Its components compatibility should not go unmentioned as well. Pininsert 2100 is often used not only for PCBs, but also for the production of ferrite antennas frame, for example. The pins are mounted into the frame elements at the ends of the coil with ferrite core.
Along with connectors manufacturing equipment, cross-section laboratories were demonstrated: portable SKP 4000 and modular SK 6000. Having such a device at its disposal, one can check the contact quality at any time. Random sample is cut, its cross section is polished and etched. After all these manipulations pristine clean surface is placed under the microscope and the image obtained is transmitted to Viso 6.00 interface, special measuring software. A few clicks – and the operator measures dimensions, receives a comparison report with the reference values and is ready to bring in a verdict.
Stay tuned!
Category: Social