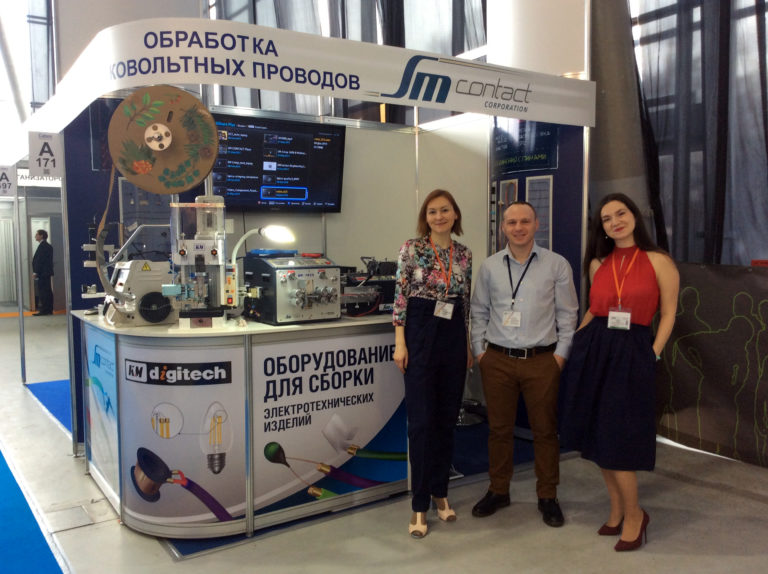 31 Mar
2017
SM Contact at Cabex exhibition, Moscow
The first SM Contact exhibition in Russia has reached the end. Duty done lossfree! Cabex exceeded our expectations both in attendance and exhibitors level. Besides "fox in the hencoop" strategy proved to be sure-fire. SM Contact was the only one equipment producer among other 131 participants and its busy 6-meters stand aroused a lot of attention.
Traditionally, producers of wire harnesses, domestic appliances and auto electronics were prevalent among visitors. There were also representatives of other various fields, from heated floors to space crafts. SM Contact presented the following equipment:
Korean cutting, stripping and crimping machines KM digitech. Last year SM Contact Engineering became its exclusive distributor in Russia and CIS.
Benchtop micrograph laboratory SKB 4000.
Manual wire harnesses taping tool TapiX.
SM Contact can't but discover features and trends specific to the Russian market. First of all, strong interest was aroused by a power plug – wire crimped connection. Second, TapiX was in favor. How else, if its heavy-weight competitors cost triply more expensive than our "baby boy"! One more trend – unexpectedly! – was several requests for coaxial cable cutting and stripping. It is a matter of tubular conducting shield processing, which is usually made of woven copper or aluminum.
In a month we will return to Moscow to exhibit at ElectronTechExpo – once again to cut, strip, crimp, analyze and, unavoidably, conquer!
Category: Social