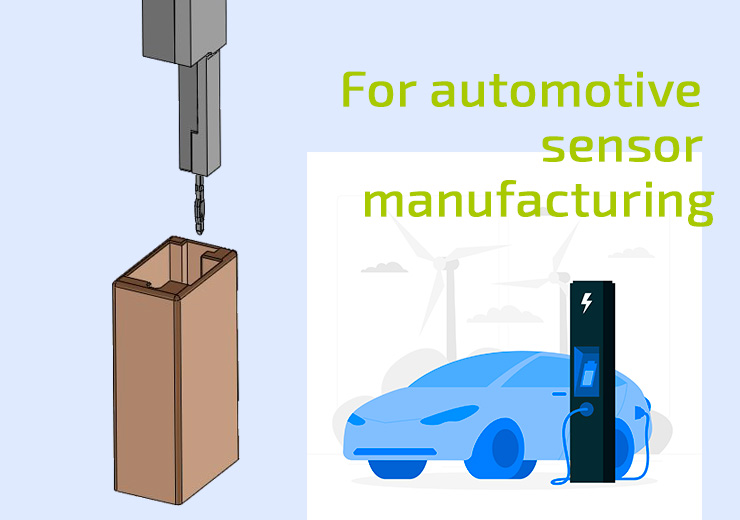 26 May
2023
Connector pin insertion with already assembled electronics in housing for advanced automotive sensors
When assembling sensor applications based on embedded electronics in housing, accessing the PCB to install connectivity terminals (pin connector) might become a challenge due to space restrictions – options limited by mating commercial connectors. This forces the use of additional assembly processes and resources.
SM Contact developed a technology where the pin connector is inserted through both plastic and the electronic board at once. It creates a robust housing-pin connector-electronics assembly, seizing high speed technology of pin insertion. This is possible thanks to certified press-fit technology that requires just mechanical deformation of the pin terminal during through-hole PCB insertion, easing and simplifying the process significantly.
Typical automotive sensor manufacturing can look like this:

The standard way to assemble this sort of sensors includes the following steps – OPTION 1:
Step 1. Press-fit pins are installed in the plastic housing – with pin insertion equipment.
Step 2. PCB is set on the pins not damaging press-fit – Press-fit for PCB equipment is required.
Step 3. The final shape of the housing is achieved by overmolding or putting on the cover.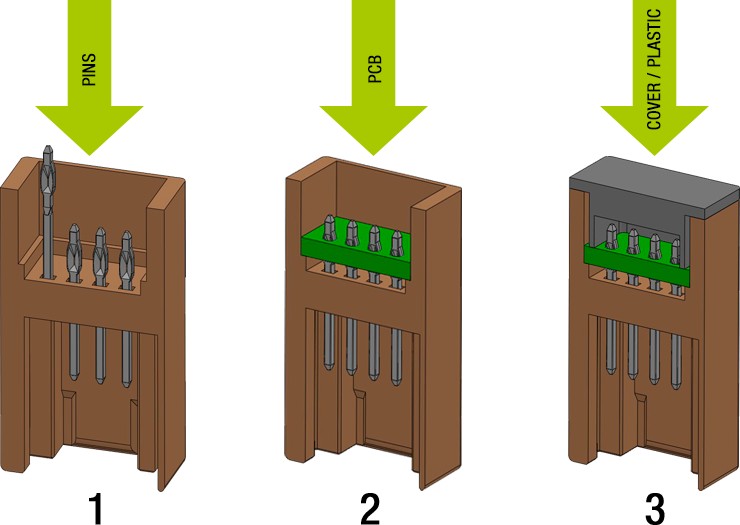 Thus, it requires 2 different kinds of equipment to perform pin-housing-PCB connection.
OPTION 2 – simultaneous pin insertion through plastic and electronics
When a housing shape is 'closed' at the bottom so that the PCB cannot be mounted like in the Option 1, connection pin – housing – PCB can be performed with unique equipment and process.
Step 1. PCB is placed in the housing.
Step 2. Pins are inserted with pin insertion equipment through the plastic 'layer' and PCB without damaging press-fit. We get both an electrical contact with the board and a mechanical contact for the sensor through the plastic.
Such a technology of pin insertion simultaneously through plastic and electronics is leveraged to avoid overmolding, soldering and part division. The result is a connector that fits automotive standards.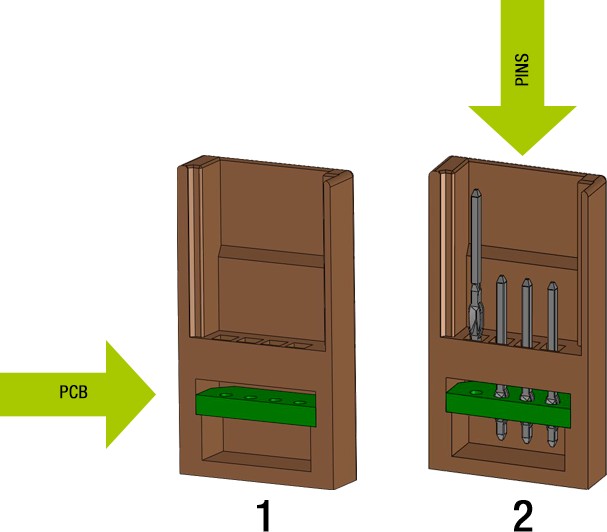 As option 1 or option 2 can be performed with Pininsert machines.
EASY-TO-GO PROCESS
In both assembly variants there can be a problem when operating space in the housing is deep and confined upon selection of mating commercial connector. SM Contact insertion technology integrates a customized jig and special tapered jaws for the Pininsert machine, solving space constrictions efficiently.
First, the PCB is placed manually or automatically in the housing.
The following operation of pin insertion is performed in one step by Pininsert 2100 or any other Pininsert machine. Pins are mounted one by one (< 0.5 sec / pin).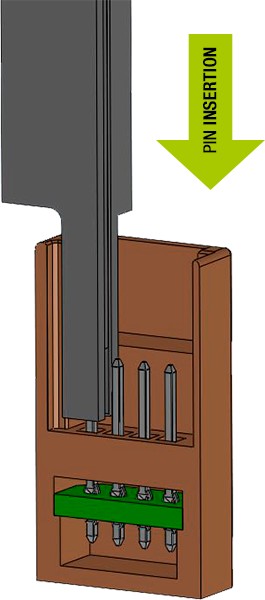 Customized jaws inserting pins through plastic part into PCB
OPTIMAL PIN GEOMETRY
The pins used have combinated press-fit and harpoon geometry. Press-fit stamping enables the pin to be fixed in the circuit board and the harpoon shape holds it into the housing. The quality is proved with insertion force and height monitoring.
New generation automotive sensors are demanded in electric vehicles for battery powered circuits: electric motors, EV converters, battery management systems. They have compact size and lower power consumption providing highly reliable performance in heavy vibration and extreme temperature ranges.
If you manufacture connectors or sensors for e-mobility or look for solutions for battery powered circuits, contact our Project Team with inquiries: +34 919490803, smcontact@smcontact.eu
Category: Pin insertion