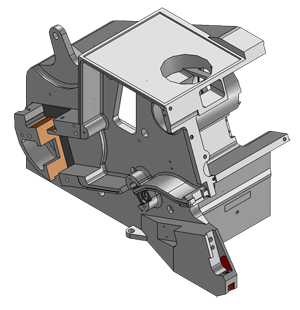 Cast iron frame
In contrast to machines assembled from separate parts by screws, SM Crimp cast iron frame warrants perfect stability during crimping.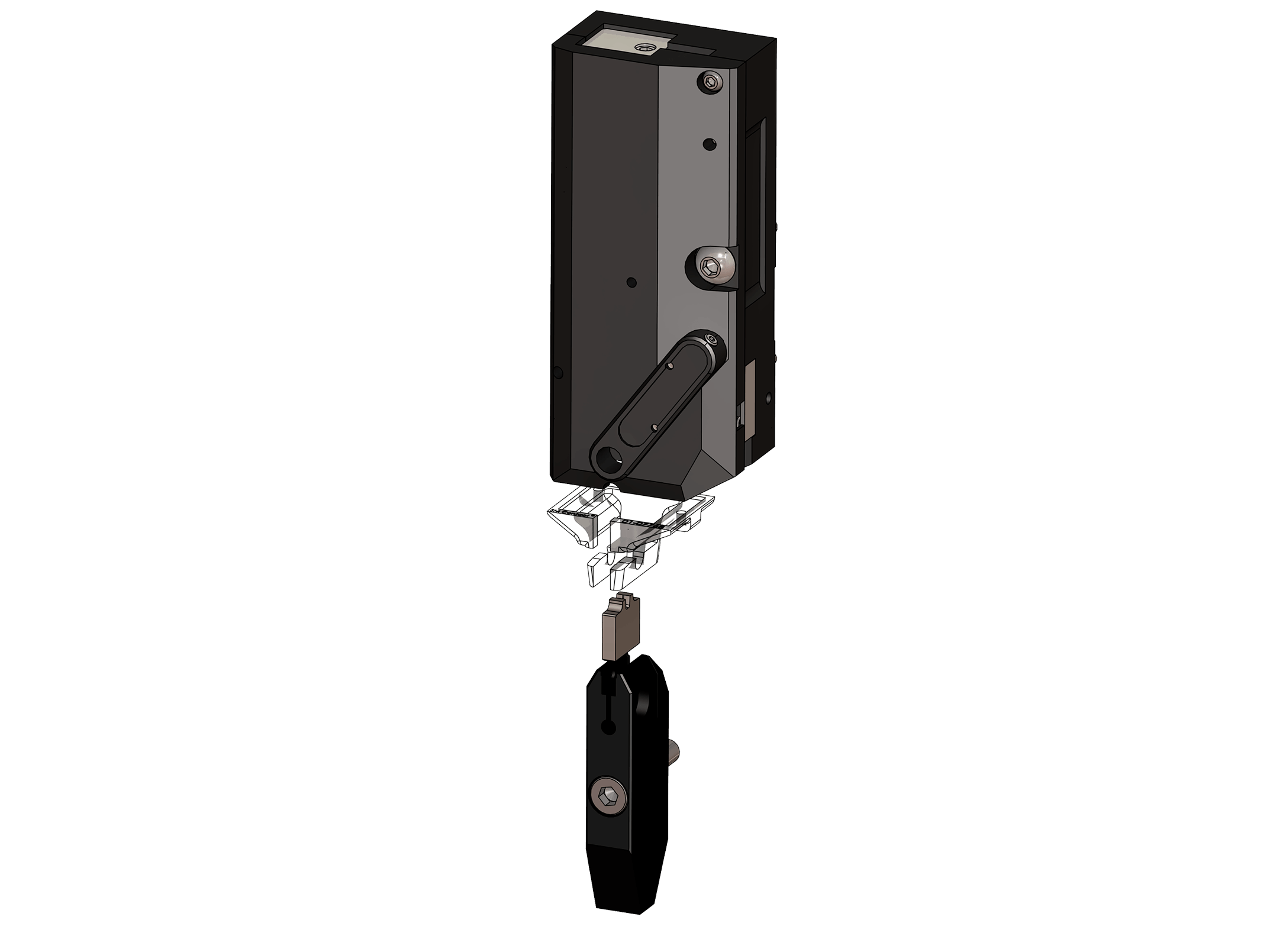 Crimping tooling set
Tooling set includes clincher, anvil, punch, punch guide, and cutting block.
Such parameters as clincher type, clincher size, and punch tip shape are customized for the application.
Inclined clincher surface, smooth cutting surface, quick-change tooling cassette, and finger guard lighting cap guarantees efficient and safe operation.
Data memory in each tooling cassette stores its own tooling list (PN's) and connection data for up to 10 connections with independent crimp height settings. It enables automatic correction of crimp height when the cassette is installed.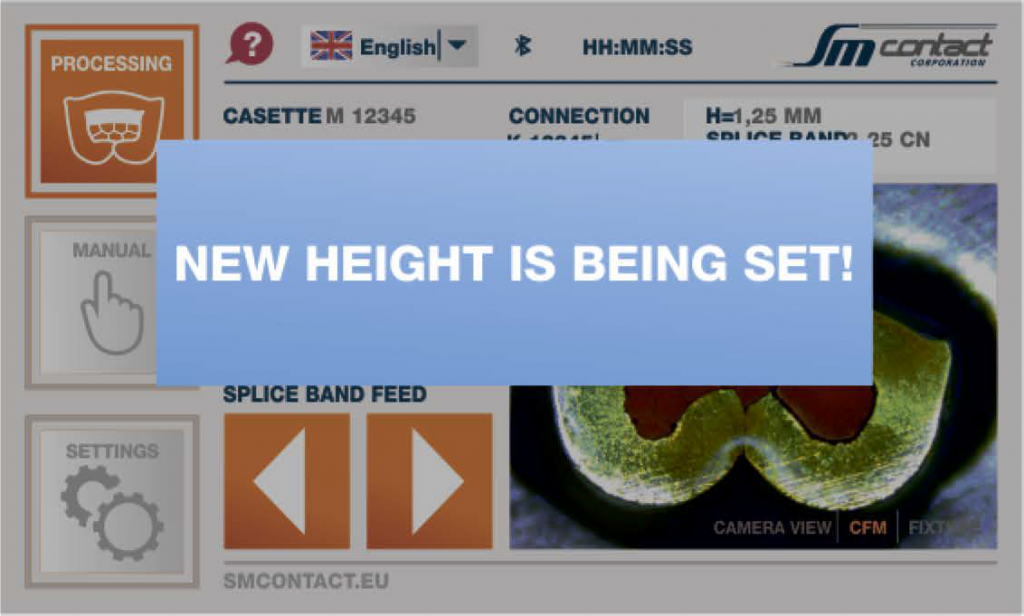 Crimp height adjustment
Crimp height adjustment is realized via touch screen with buttons +- (increment of 0.01 mm) or by selecting among preadjusted connections parameters (automatically).
Motorized splice band feeding system
Rubber surface of a feeding wheel prevents damages of the splice band. Special sensor controls the length of each splice.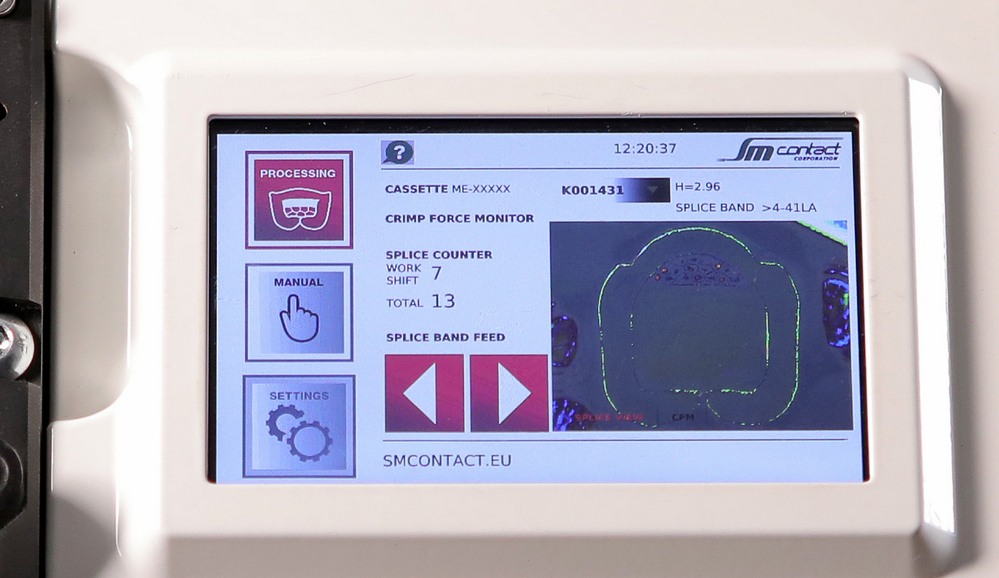 Touch screen control panel
All controls except the power switch are located at the display. It is possible to control the quantity of products, inputs and outputs, return punch to zero position, check CFM and component position, tooling technical data and feeding system, choose interface language and activate emergency stop.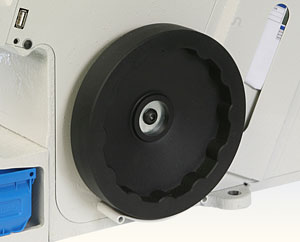 Hand wheel
Hand wheel is used to perform manual cycle for testing the system before production, e.g. centering the clincher, change of tooling. Wheeling moves the punch down and allows to monitor splicing process in general as well as positioning of the tooling.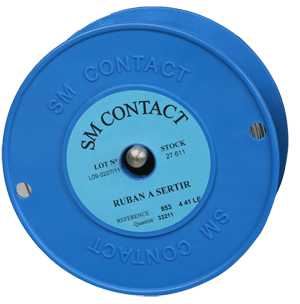 Splice band
Splice band is defined according to the type of application and environment temperature range: splice band type and material (brass, brass with tin coating, cupronickel, cupronickel with tin coating, stainless steel), thickness (0.2 – 0.53 mm), width (1.5, 2, 3, 4, 6, 7 mm), and length.
Splice band is engineered with serrations for magnet wire and standard wire types. It is suitable for multi-strand and solid core copper and aluminum wires.
Our splice materials meet the following standards:
UL 486C

MIL – STD 202

IEC 60352-2

IPC/WHMA-A -620

REACH & RoHS
| | |
| --- | --- |
| SPLICE MATERIAL | APPLICATION |
| Brass CuZn30 | General purpose, -80..+120°C |
| Brass with tin coating CuZn30 tinned | General purpose, -80..+120°C, corrosion resistant, pre-soldered components |
| Cupronickel CuNi9Sn2 | High reliability, -80..+400°C, perfect corrosion resistant, weldable |
| Cupronickel with tin coating CuNi9Sn2 tinned | High reliability, -80..+120°C, perfect corrosion resistant, weldable |
| Stainless steel 2 mm: 2.4867, 4.6 mm: 1.4567 | Special purpose, -80..+900°C, for aggressive environments |
| Customer specified | On request |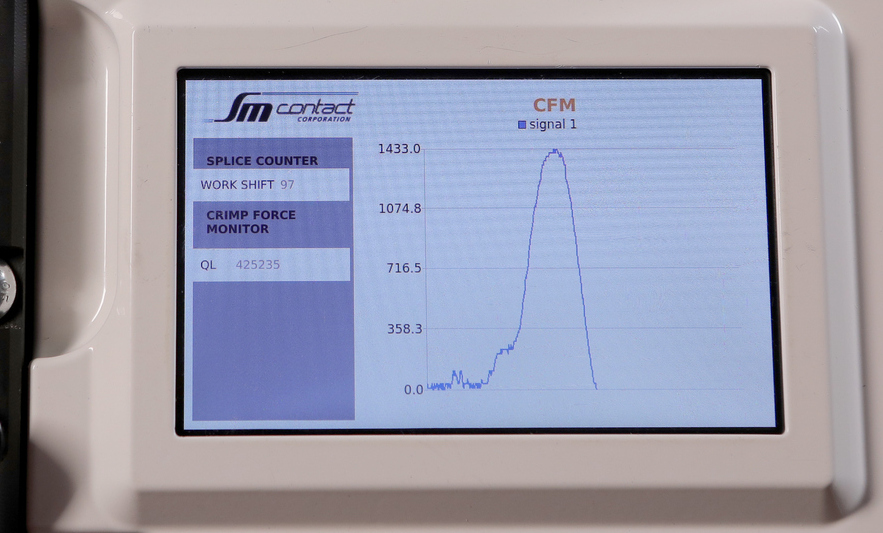 Built-in Crimp Force Monitor (CFM)
CFM captures, calculates and evaluates force-time curve and detects any deviation from the quality tolerances.
System works with many types of splicing and crimping machines and suites well to any application requiring inline monitoring of forces.
The reference curve of CFM corresponds to crimping force, but in fact it can reflect such quality deviations as:
missing wire strands

missing terminal

inaccurate components positioning

inaccurate crimp height

inaccurate wire gauge

insufficient insulation strip length

insulation in wire barrel
wire partially inserted in wire barrel
CFM allows to adjust automatic cutting and/or rejection of defective items.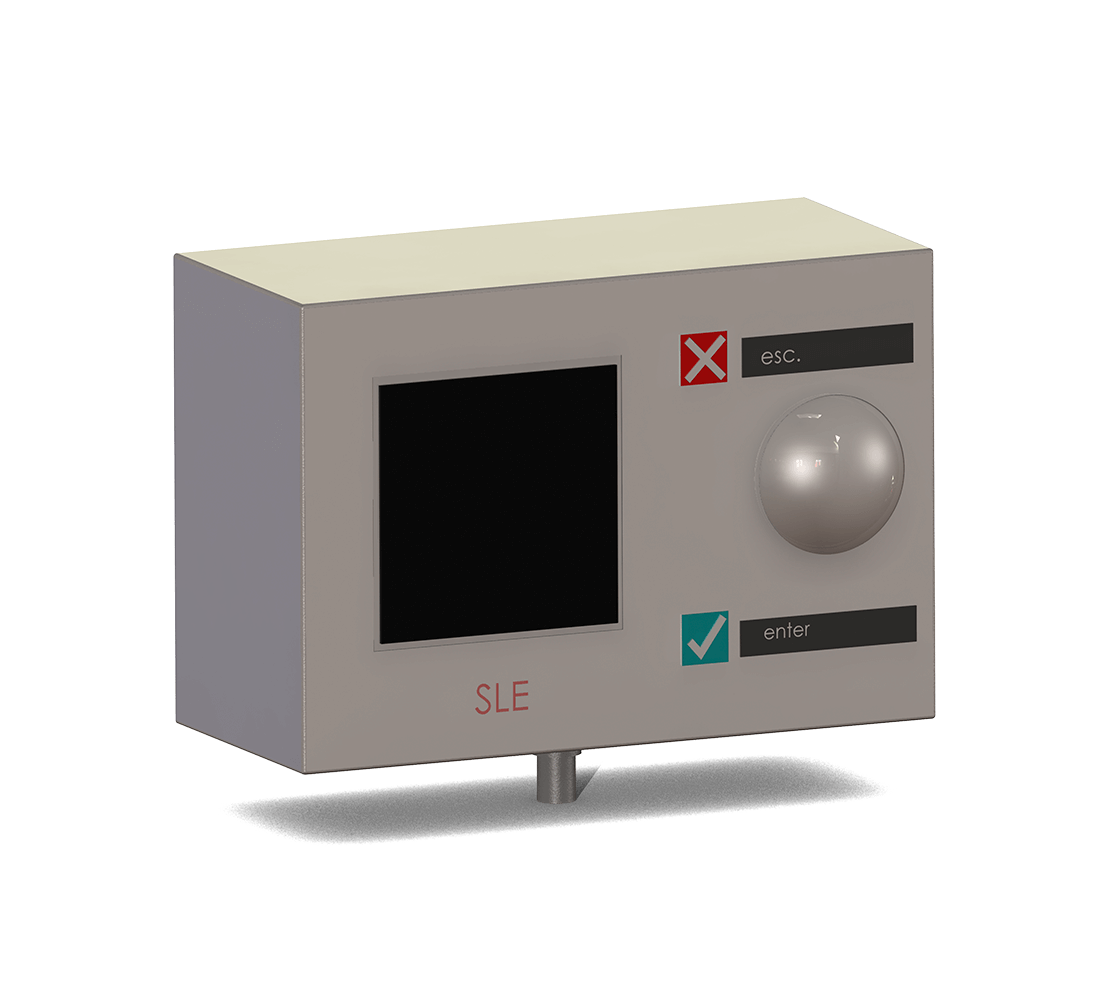 Force sensor for CFM
Piezo sensor detects force at the moment of splicing, transmits information to CFM for data processing and displaying force-time curve corresponding to crimp force.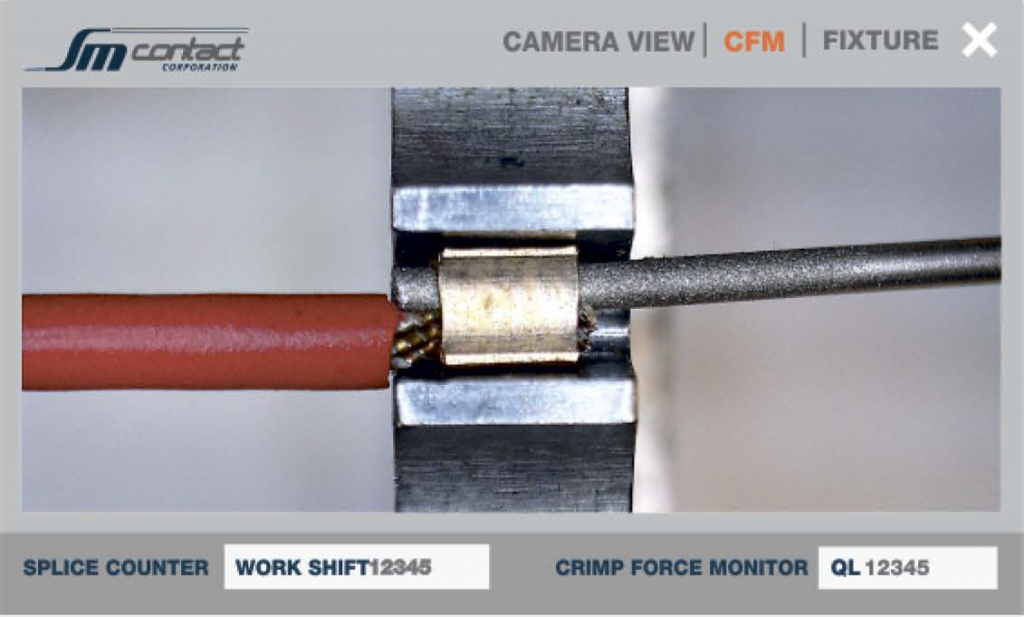 Component position video verification
Camera shoots the clincher area and sends video to the HMI screen in real time. Thus, operator can view the components being crimped and is capable to position them in the clincher precisely.
There are two options for the camera placement:
1, built into the tooling cassette,
2, mounted on the left wall of the tooling cassette and connected via USB cable.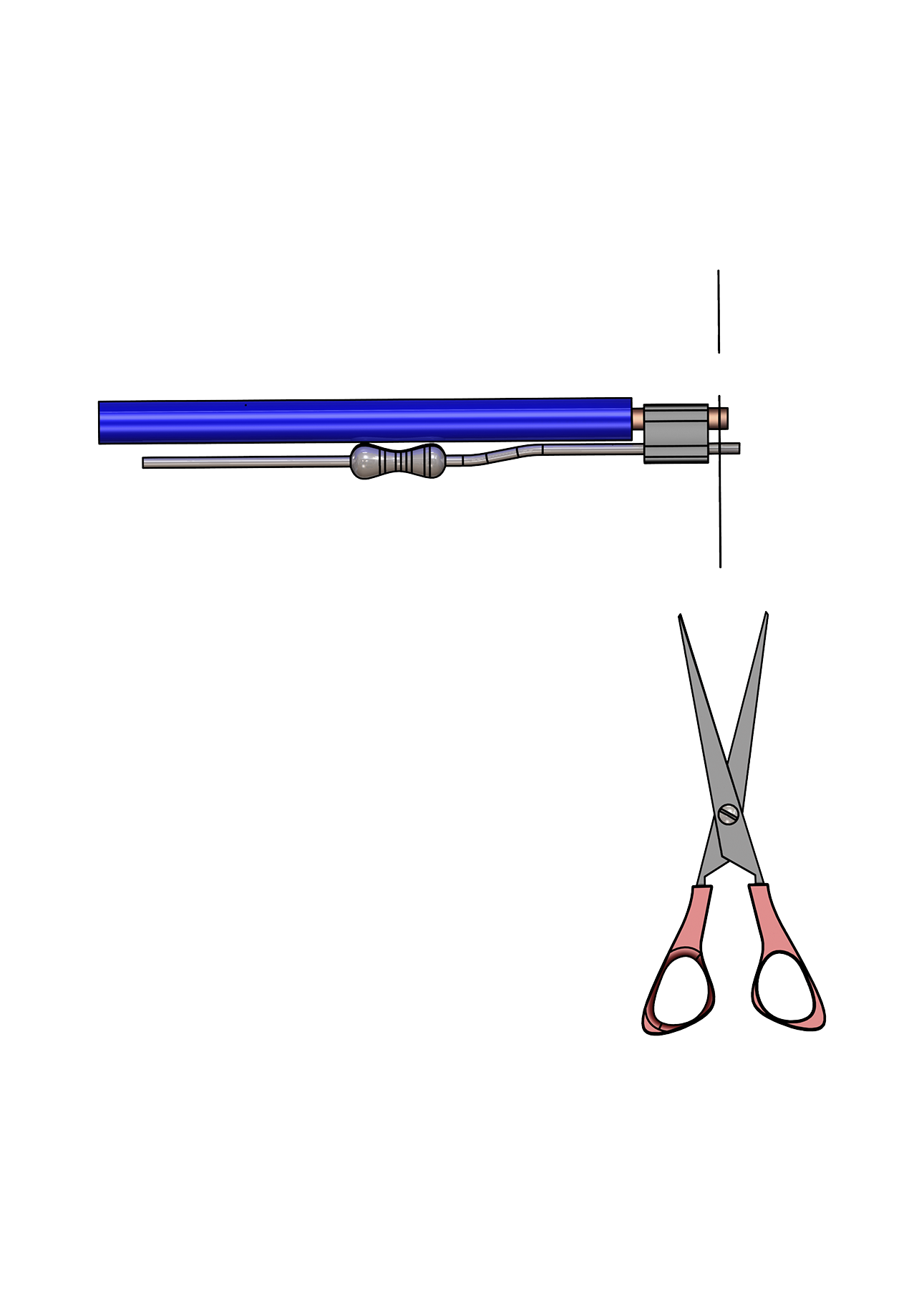 Cutting unit
Cutting unit cuts components after splice crimping so that their ends protruding out of the splice band from one side are of equal length. It suits wires of up to 1.5 mm2 diameter.
CFM and cutting unit can be integrated to cut defective parts in halves.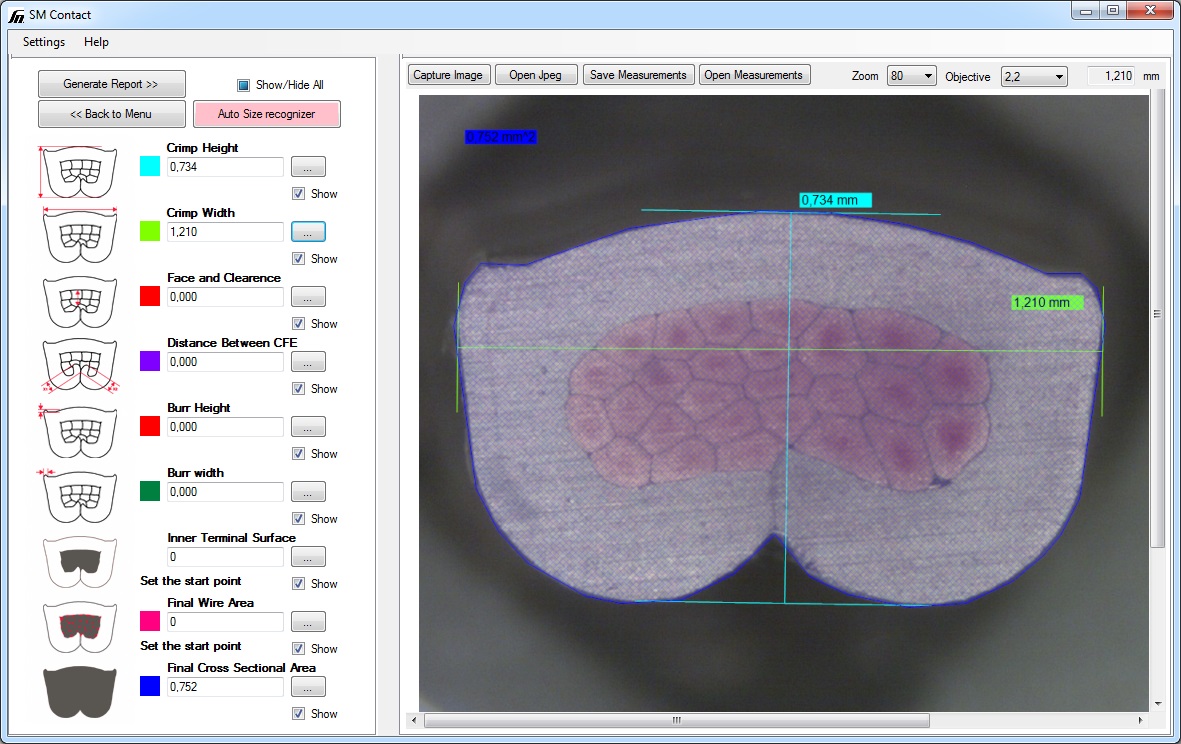 Quality control equipment
Laboratory equipment allows to control whether the splice quality matches industry norms or any other special requirements. Check our micrograph laboratories, pull force and crimp height control tools, as well as specialized measurement software.