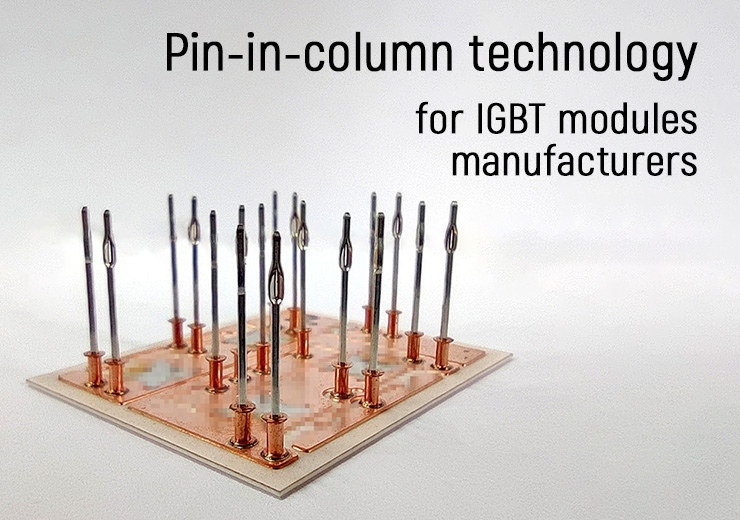 30 Aug
2023
Pin-in-column technology for IGBT modules assembly
SM Contact realizes the pin-in-column solution for IGBT modules assembly. With the Pininsert 3200 machine and press-fit pins it is possible to create reliable, well-controlled connections on PCBs without welding and hole drilling.
IGBT is becoming the preferred device for high power applications enhancing their switching, temperature, weight and cost performance. IGBT modules are used in automotive main motor controllers in HEVs and EVs, industrial motors, trains, as well as in home appliances such as air conditioners and refrigerators, induction hobs, etc.
Conventional IGBT module assembly method
The concern for IGBT module manufacturers is about how these power semiconductors will be further attached to the product. Usually welding of pins is used for this purpose. The disadvantage of this technology is overheating: high temperature can damage the IGBT module PCB, which is usually ceramic.
Alternative technology
Alternative technology is to solder columns, also called sleeve or tubular terminals, to the copper pad on the PCB during assembly of the IGBT module. Standard pick-and-place machine can be used for this operation. Pins are then inserted into these holders using a pin insertion machine such as Pininsert 3200 offered by SM Contact. Columns stand on the board and function like an "alternative" holes in the through-hole mounting method. If press-fit pins are used, it is enough to press this IGBT module into the mating PCB or controller for reliable connection.
Advantages of IGBT module assembly using pin-in-columns technology:
Elimination of pin welding and, consequently, the risk of high temperature damage of the PCB when assembling the IGBT module.
It is possible to use this technology for circuit boards that cannot be drilled.
Columns can be mounted by a standard pick-and-place machine, which PCB manufacturers usually have.
Control over the process. When the IGBT module is pressed into the mating control PCB, the insertion force and quality is controlled.
Cost savings with press-fit pins: soldering is not required when mounting IGBT in the final product. Compression in the deformation zone ("eye-of-the-needle") when a pin is inserted into a smaller diameter hole in the PCB ensures a solid connection.
Duration: 0:16
Pins in columns and automatic pin insertion machine
Insertion of pins into columns during IGBT modules assembly can be done with in-line high-volume semi-automatic Pininsert 3200 machine by SM Contact. We also offer pins best suited for this technology: press-fit pins and combined press-fit & star pins supplied end-to-end in continuous reels. Press-fit pins 0.60×0.60 mm are qualified in accordance with IEC 60352-5 and match automotive norms.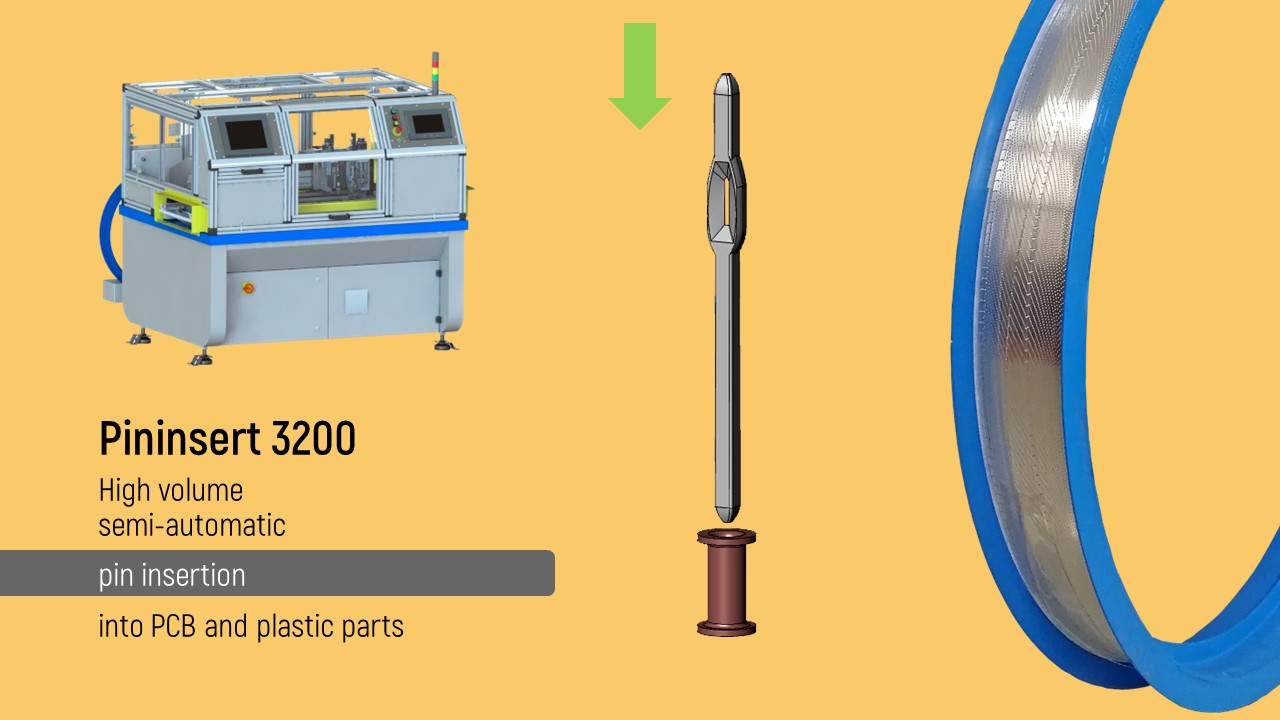 Pininsert 3200 characteristics
If you manufacture IGBT modules for e-mobility and other IGBT applications or look for solutions for battery powered circuits, contact our Project Team with inquiries: +34 919490803, smcontact@smcontact.eu
Category: Pin insertion